Australian Spouse or Fiancé Visa
Aa Australian Spouse or a Fiancé visa allows an Australian Citizen or a Permanent Resident (PR) to bring their spouse to Australia and start their family.  There is just a minimal difference between a Spouse (subclass 309) and Prospective marriage/Fiancé (Subclass 300) Visa.
Partner/Spouse Visa (Subclass 309)
An Australian Partner Visa is granted to a person who is already married to an Australian Citizen or a PR.  This visa operates in two parts – It is initially temporary and can lead to permanent residence, provided the couple remains together for at least 2 years.  To elaborate. A subclass 309 is granted initially and then after two years it changes to subclass 100.   In cases, where you are already married for more than 2 years, you are directly granted a 100 subclass i.e. a permanent resident visa.
The main requisite for this visa is, you have to prove your genuine and ongoing relationship with an Australian Citizen or a PR.  There are certain parameters on which your application is judged.  Some of the major points are:
You need to prove your marriage is socially accepted
You need to prove your genuine intention to stay with your partner and to prove to the immigration that this marriage is not based on grounds of taking some undue visa favours.
Need to meet the minimum health criteria by undergoing health examination requested by the department
Need to submit a character clearance certificate to prove there is no legal bindings in travelling to a new country.
This Visa lets you:
stay in Australia until they decide your permanent Partner (Migrant) visa (subclass 100)
work in Australia
study in Australia (you will not receive government support)
travel to and from Australia as many times as you want
attend up to 510 hours of free English language classes provided by the Adult Migrant English Program
enroll in Australia's public health care scheme.
Steps involved in the process:

Prospective Marriage – Subclass 300
The only difference in this visa subclass is that you are currently not married to Australian Citizen or PR, but intends to marry them soon. Once this visa is granted, you are provided with a 9-month visa and you need to marry within this period. The 9 months period starts from the date of grant of subclass 300. You need to apply for partner visa after you are married if you wish to stay in Australia.
The documentation and benefits remain the same, with the exception of providing marriage proofs initially, you need to show your genuine relationship by way of chats, telephone records, meeting pictures etc.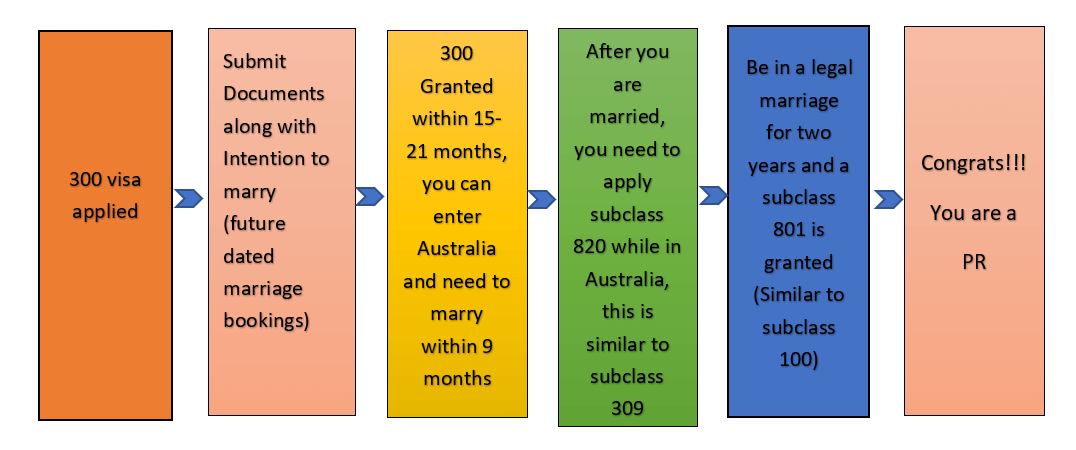 Citizenship by Descent
This category is available for children of Australian Citizens, if one of the parents is an Australian Citizen, you can apply an Australian Citizenship directly without having to hassle through a PR process.
Some of the Pre-requisite of this visa is:
You must have been born outside Australia
One of the parents need to be an Australian Citizen at the time of your birth
Character verification needs to be submitted if you are over 18 years of age.

This is a brief overview of the process in regards to Australian Family visas, we are an expert on the legislation & requirements and we give you fast and clear answers. Work with us for a realistic visa strategy, to find out what the requirements are and to make things easy. Some of the advantages you get by choosing us are:
Professional Australia Spouse visa expert having years of experience
Personal advice on case to case basis to make your case strong
Lastly, we understand that more than your money, there is emotions attached when you are trying to unite with your family. We just make sure that you don't have to go through the confusing policies and regulations (leave it all to us) and just plan how you would start our journey of life when you have the visa.