A message from the founder and president of Olvis Immigration and Travel Services with his lovely spouse celebrating 33 years in the Visa Services business.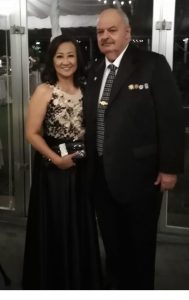 Over 30 years ago when I first came to the Philippines to meet a pen pal I had been corresponding with, while on the plane about 40,000 feet over the Pacific somewhere I started thinking to myself that I must be out of my mind to fly 10,000 miles to meet some lady from a far different country and culture that I did not really know anything about. I can tell you truthfully that when I landed in Manila If I could have turned around and gotten back on the plane I would have done it. Anyway I met the lady and decided that maybe I was wrong and this was not so bad after all she was a wonderful lady and within 2 weeks we decided to get married.
Now here I am in a strange country not knowing anything about getting married there or what to do fortunately, my lady friend knew an attorney that was also a judge, I was introduced to him and he said oh this is no problem I will help you through the process as I do this many times each year for foreigners that come to get married, well I did not have much of a choice at this point so we used the Judge he got us through the entire process of the wedding pretty much painlessly. At this point I figured that I could take my wife and get on the plane and go home, End of Story, Right?
Well, keep in mind that this was in the days before the internet so there really was not much information out there. Anyway the judge then told me that I had to do immigration paperwork to bring my wife to the USA and that she could not just get on the plane and go and that It would take about 90 days, BUT for a small additional fee he would take care of all the US immigration paperwork, well once again I did not seem to have much of a choice so I paid him $500.00 to do the immigration. The wedding was fine the Immigration was a disaster after waiting for about 7 months to get it done and sent to U.S Immigration it turned out that he was doing what most attorneys do he was practicing Law, with my time and my money and the petition was denied for several reasons it was not a little mistake it was a whole lot of mistakes, forged documents and general carelessness on his part.
At this point I decided that maybe I should do something different. I had a friend that worked at the US immigration office in my states Capitol city so I went to see her as she was the chief of that office and offered to help me, she gave me all the forms and went over them with me line by line. So then I went home and typed them all up and took them back to her for review before I submitted them, she went over them line by line with me and assured me that they were perfect so I submitted them for the 2nd time to Immigration. This time it took less than 30 days for them to send it back because of missing documents and other mistakes. So back to my friend at Immigration and we did the whole thing over again and again I sent it off to Immigration this time it took almost 90 days for them to deny the petition.
At this point I am beginning to wonder, I had contacted several Immigration attorneys here in the USA but they were very expensive and did not seem like they really knew what they were talking about, especially when it came to answering questions about what my wife had to do there in the Philippines. So what options did I have, spend 2 or three months trying to navigate the Immigration process myself or pay another attorney to PRACTICE on me again and charge me a very large fee and would not make me any kind of guarantee that it would actually fly. So I got everything I could find on the subject and studied carefully and having already learned a lot from my past mistakes I DID IT ALL BY MYSELF and yes 90 days later she was here in the USA with me, it seems that I knew more about the process then the people in the immigration office.
Well after my wife arrived here in the U.S.A one day we were in the grocery store shopping and we ran into another guy that was going through the same headaches and he told us about his friend that also had the same problems, so I decided right then and there that I would help them if I could, so I prepared the visa applications for both of them and guess what they both received the visa. From that point on I decided to help as many people as I could. I have done visa processing every day for the last 30 years and hope to continue for many more.